Hydraulic Shears
All shears are rugged Mill-Type construction for extended service life.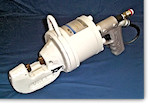 Used extensively in Steel Mills and by Secondary Wire Processors, these shears are available in seven different sizes, the largest capable of cutting 63mm diameter material.
See a video of a pinch cut shear at work
Designed specifically for use in Continuous Casting Plants, these shearing systems can be used to cut high-temperature material as well as cold cuts.
These units are used when light-weight, portable units are required for cutting smaller diameter materials.
These custom built units are used for shearing a wide variety of materials from steel strip to lead sheets.