High Pressure Shears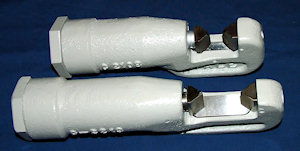 In certain applications the ability to easily carry and position the hydraulic shear requires a lighter weight tool than is normally available. To accommodate this need Vale offers their high-pressure, 690 BAR Shearing Systems.
This shear range offers true portability. The shears provide unmatched flexibility and real mobility to replace awkward bolt cutters.
The four models offered cut both ferrous and non-ferrous materials ranging from 12.7mm to 35mm diameter. The shears are provided with an integral switch handle that provides easy one handed operation of the tool.
MODEL
CAPACITY
DIA.
SHEAR STRENGTH
WEIGHT
DIM A
DIM B
DIM C
DIM D
DIM E
DIM F
DIM G
VHS5-C2105
12.7mm
4137 Bar
2.5 Kg.
185mm
12.7mm
22mm
50mm
75mm
160mm
145mm
VHS15-C2363
20mm
4137 Bar
.7 Kg.
.265mm
22mm
28mm
75mm
110mm
160mm
155mm
VHS50-C2402
20mm
1379 Bar
2.9 Kg.
220mm
30mm
24mm
50mm
77mm
160mm
147mm
VHS150-C2224
35mm
1379 Bar
8.7 Kg.
330mm
41mm
38mm
73mm
110mm
160mm
155mm